Call us now: 1-888-729-2922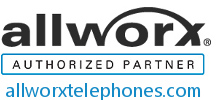 Tx 92/94 Expander for 9224 IP Phone
Expander Features
The Allworx Tx 92/24 Expander is the ideal solution for anyone who needs an array of one-touch features or the ability to monitor or route a high volume of calls directly from their phone. Up to three Tx Expander units can be anchored to any Allworx 9224 phone for an additional 24, 48, or 72 PFK's (Programmable Function Keys) – offering you access to a total of 96 PFK's in one single integration.
Each PFK on an Allworx Tx Expander can be programmed to perform a wide variety of functions which are activated at the simple touch of a button
Key Features
Automatic detection by the 9224 phone
24 programmable function keys (PFK)
Connect up to three Expanders for an additional 24, 48, or 72 programmable function keys (maximum of 96 including phone)
Supports up to 24 line appearances per expander for a maximum of 96 appearances
Powered directly from the 9224 phone, no additional power sources are necessary
Adjustable stand/Wall mountable
Industry Awards
2009 Best Channel Product, Business Solutions magazine
2009 Internet Telephony Excellence Award
Call 888-729-2922 for a free, no-obligation estimate.
"Allworx phone systems have everything — every option, every feature — that you're going to want, and it'll be tough to find another one that's even close in terms of pricing."
"Allworx has really helped us to stay in business as we continue to grow with one unified phone system,"
60 Day
Make-It-Right

Guarantee

We will stay, troubleshoot and finish the job– no excuses. 5 Year Manufacturers Warranty All phones & servers are warrantied by Allworx for 5 years. 5 Year Software Maintenance Get every software and feature update for 5 years. 60 Day Onsite Support We will stay, troubleshoot and finish the job– no excuses. 90 Day Remote Support All moves, adds & changes that are remote supported are included for 90 days. 24/7/365 Monitoring & Support (Optional) All phones & servers are monitored and supported 24/7/365 through our optional Monitoring & Support Plan. Includes all moves, adds & changes.