Call us now: 1-888-729-2922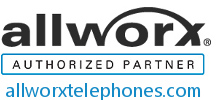 Your Allworx server comes complete with all the features you need for day-to-day operation. Many specialized applications make Allworx truly unique. To learn about the benefits of adding the following software features to your system and how they will expand your business, follow the links below.
Advanced Multi-Site

Unrivaled in scope and simplicity, this exciting capability takes the inherent advantages of a distributed environment and embeds a completely seamless call processing experience. With Advanced Multi-Site there is true unification across all sites.

Automatic Call Distribution

Allworx Automatic Call Distribution is a robust system, allowing you to distribute queued calls in linear priority, round robin, longest idle and ring all styles — a different style for each and every call center need!

Call Assistant

Finally…a cost-effective answering position and personal call management tool designed specifically for small and medium businesses. Allworx Call Assistant is a PC-based answering position and personal call management tool.

Conference Center

When you're not able to be there in person, the Allworx Conference Center software allows you to confidently host conference calls with remote colleagues, internal employees, customers and business partners.

Dual Language Support

Your business doesn't stop at the border — now Allworx will actively help boost your international or multicultural corporate presence.

Mobile Link

Bring Allworx Management functionality to your smartphone with iAllworx and Mobile Link for Android.

Interact

Control your Allworx phone in an intuitive manner that improves personal productivity and efficiency.  Leverage the simplicity of the PC-based user interface with the power of the Allworx handset.

Reach

Allworx Reach is a SIP mobility client that brings mobility to new heights.

View

Allworx View™ and View ACD deliver the information needed to support intelligent decision making.

TAPI

The Allworx TAPI TSP (Telephony Service Provider) Driver transforms your Windows-based PC into a communications powerhouse. The Allworx TAPI TSP Driver allows for the following enhancements on 3rd party applications that support these specific features.
"Allworx phone systems have everything — every option, every feature — that you're going to want, and it'll be tough to find another one that's even close in terms of pricing."
"Allworx has really helped us to stay in business as we continue to grow with one unified phone system,"
60 Day
Make-It-Right

Guarantee

We will stay, troubleshoot and finish the job– no excuses. 5 Year Manufacturers Warranty All phones & servers are warrantied by Allworx for 5 years. 5 Year Software Maintenance Get every software and feature update for 5 years. 60 Day Onsite Support We will stay, troubleshoot and finish the job– no excuses. 90 Day Remote Support All moves, adds & changes that are remote supported are included for 90 days. 24/7/365 Monitoring & Support (Optional) All phones & servers are monitored and supported 24/7/365 through our optional Monitoring & Support Plan. Includes all moves, adds & changes.