Call us now: 1-888-729-2922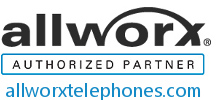 Another option to owning your phone system is purchasing your new phones and leasing the core service package that operates them, otherwise known as a "hosted solution". Hosted is promoted as being cost effective, but not in the long run. Your upfront costs might appear lower, but as you look at the total cost of ownership for the long term, you'll find it quickly becomes very expensive if you plan to grow. 80% of a phone system's cost are the phones themselves. If you are purchasing IP Phones to work on a hosted platform, you may have already spent 70%-80% of the cost of a new phone system. Easy, flexible financing can remove any up front cost barriers.
Hosted solution providers also routinely advertise that there's no need for service calls because all the intelligence resides elsewhere. Our customers who previously had hosted solutions tell us that wasn't the case. Service levels vary. Remember, you're only renting the selected features and the cost of those packages can change over time, especially as your needs become more involved.
Finally, with hosted solutions, your phone numbers aren't really yours. You're only renting them because your provider pays for them. If you ever need to move your phone numbers, you have limited options—and in many cases no recourse. If you are unhappy with the service of your hosted provider, moving your numbers & service to another provider can be much more problematic & disruptive than doing so with your own PBX. If your phone numbers are the lifeblood of your business, be careful. With Allworx, you always have full control over your system & your phone numbers.
Call 1-888-729-2922 for a free, no-obligation estimate.
"Allworx phone systems have everything — every option, every feature — that you're going to want, and it'll be tough to find another one that's even close in terms of pricing."
"Allworx has really helped us to stay in business as we continue to grow with one unified phone system,"
60 Day
Make-It-Right

Guarantee

We will stay, troubleshoot and finish the job– no excuses. 5 Year Manufacturers Warranty All phones & servers are warrantied by Allworx for 5 years. 5 Year Software Maintenance Get every software and feature update for 5 years. 60 Day Onsite Support We will stay, troubleshoot and finish the job– no excuses. 90 Day Remote Support All moves, adds & changes that are remote supported are included for 90 days. 24/7/365 Monitoring & Support (Optional) All phones & servers are monitored and supported 24/7/365 through our optional Monitoring & Support Plan. Includes all moves, adds & changes.