Call us now: 1-888-729-2922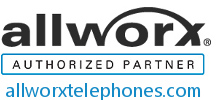 The Allworx TAPI TSP (Telephony Service Provider) Driver transforms your Windows-based PC into a communications powerhouse. The Allworx TAPI TSP Driver allows for the following enhancements on 3rd party applications that support these specific features.
Key Features
Support for Multiple Calls: applications that allow for simultaneous multiple calls are supported
Outbound Calling: including placing outbound calls and dialing additional digits on active calls (e.g. at an auto attendant or entering a PIN code)
Inbound Calling: including answering or receiving prompts and caller information on inbound calls
Support for Caller ID: including automatic display of contact information
Transfer Call: support for both blind and attended transfers
Park Call: support for parking and retrieving parked calls
Hold and Un-Hold Call: easily place an active call on hold or un-hold depending on application
Available as an option with no license fee once the Allworx Call Assistant License Key has been purchased.
Call 888-729-2922 for a free, no-obligation estimate.
"Allworx phone systems have everything — every option, every feature — that you're going to want, and it'll be tough to find another one that's even close in terms of pricing."
"Allworx has really helped us to stay in business as we continue to grow with one unified phone system,"
60 Day
Make-It-Right

Guarantee

We will stay, troubleshoot and finish the job– no excuses. 5 Year Manufacturers Warranty All phones & servers are warrantied by Allworx for 5 years. 5 Year Software Maintenance Get every software and feature update for 5 years. 60 Day Onsite Support We will stay, troubleshoot and finish the job– no excuses. 90 Day Remote Support All moves, adds & changes that are remote supported are included for 90 days. 24/7/365 Monitoring & Support (Optional) All phones & servers are monitored and supported 24/7/365 through our optional Monitoring & Support Plan. Includes all moves, adds & changes.