Call us now: 1-888-729-2922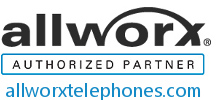 Allworx Reach™ Mobile SIP Client
Allworx Reach™ combines effortless communication with complete mobility for iOS and Android devices.  Allworx Reach brings the rich functionality of your Allworx phone to your smartphone, providing a robust level of features, functionality and integration as part of the Allworx family of IP-based PBXs.
An Allworx-created solution designed exclusively to work on Allworx systems, Reach integrates seamlessly with new or existing Allworx products and requires no additional Allworx hardware.  Both Wi-Fi and cellular data networks are utilized for Allworx Reach access, so users are connected anywhere there is a signal — from across the room or across the globe.
Large, visually oriented windows are utilized to manage calls, contacts, call history and voicemail in the Allworx Reach user interface.  The user can simultaneously make, receive and manage multiple calls.  The contacts and call history lists are useful to simplify dialing calls, reducing dialing errors and speeding time to connect.  Voicemail is also accessible from Allworx Reach, enabling quick review and processing of individual messages.
Allworx Reach is supported with Release 7.5 software and higher. It is a free download, available from iTunes for iOS devices and from the Google Play Store for Android devices. A device license on your server is required in order to register the Reach application on each device. One device license is provided at no charge, additional device licenses are available from any Authorized Allworx Partner, who can then provision them on your Allworx server.
If you are an Allworx end-user customer and want more information on how Allworx Reach can improve your productivity, please contact your authorized Allworx partner to learn how to upgrade your existing system - or to purchase a new Allworx system. If you need help locating an authorized partner, please contact Allworx directly at 1-866-ALLWORX.
Technical support is provided by Allworx only to its authorized partners, so to avoid frustration, please contact your partner, or contact us so we can put you in contact with an authorized partner nearby your office. Once your device license is configured you can manage the actual download and setup without any further assistance.

To download the application and find additional information, go to: get.allworx.com/reach/
"Allworx phone systems have everything — every option, every feature — that you're going to want, and it'll be tough to find another one that's even close in terms of pricing."
"Allworx has really helped us to stay in business as we continue to grow with one unified phone system,"
60 Day
Make-It-Right

Guarantee

We will stay, troubleshoot and finish the job– no excuses. 5 Year Manufacturers Warranty All phones & servers are warrantied by Allworx for 5 years. 5 Year Software Maintenance Get every software and feature update for 5 years. 60 Day Onsite Support We will stay, troubleshoot and finish the job– no excuses. 90 Day Remote Support All moves, adds & changes that are remote supported are included for 90 days. 24/7/365 Monitoring & Support (Optional) All phones & servers are monitored and supported 24/7/365 through our optional Monitoring & Support Plan. Includes all moves, adds & changes.