Call us now: 1-888-729-2922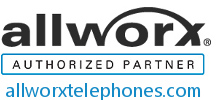 Automatic Call Distribution
Allworx Automatic Call Distribution is a robust system, allowing you to distribute queued calls in linear priority, round robin, longest idle and ring all styles — a different style for each and every call center need! With Automatic Call Distribution, you can instantly manage all the important configurations of each call queue within your system while also tracking an array of beneficial queue statistics on the performance of both individual agents and each individual queue.
Automatic Call Distribution supports up to 10 queues with 32 calls per queue and 64 calls across all queues at any time (when using an Allworx 48x) or 10 queues with 8 calls per queue and 16 calls across all queues at any time (when using an Allworx 6x).
Key Features
Visual indicators show the status of the queue line through variations in the color and blinking of Programmable Function Keys
Record custom greetings for each queue
Each queue can be assigned a descriptive name to appear whenever drop down menus are available or on your phone display when the phone is ringing
Programmable Function Keys can be set so that specific keys light up to represent specific call queues
Each phone can be set to respond to queue conditions differently, including different ring cadences, ringing after a user-specified number of callers enter the queue or after callers have exceeded a user-specified time period
Calls can be directed to managers or co-workers if the wait time becomes too long, or too many calls are in queue at any given time
Track detailed statistics on the performance of individual agents as well as on each call queue within the system
Sold as an option
One time license fee
Unlimited number of agents & supervisors (based on total users on system)
Server software 7.1 or later is required
Call 888-729-2922 for a free, no-obligation estimate.
"Allworx phone systems have everything — every option, every feature — that you're going to want, and it'll be tough to find another one that's even close in terms of pricing."
"Allworx has really helped us to stay in business as we continue to grow with one unified phone system,"
60 Day
Make-It-Right

Guarantee

We will stay, troubleshoot and finish the job– no excuses. 5 Year Manufacturers Warranty All phones & servers are warrantied by Allworx for 5 years. 5 Year Software Maintenance Get every software and feature update for 5 years. 60 Day Onsite Support We will stay, troubleshoot and finish the job– no excuses. 90 Day Remote Support All moves, adds & changes that are remote supported are included for 90 days. 24/7/365 Monitoring & Support (Optional) All phones & servers are monitored and supported 24/7/365 through our optional Monitoring & Support Plan. Includes all moves, adds & changes.