Call us now: 1-888-729-2922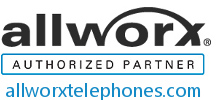 When you're not able to be there in person, the Allworx Conference Center software allows you to confidently host conference calls with remote colleagues, internal employees, customers and business partners.
Take control of your communications with a fully featured conference center that allows real-time scheduling and managing of conference calls with both internal and remote participants directly from your desktop.
Enjoy a fully featured professional conferencing system with comprehensive administrative and user controlled security, scheduling and moderation on a centralized easy-to-use web portal.
Key Features
Full administrative view of users and conferences
Set up conference calls 24/7
Secure conferencing option — ID and Password protection
Centralized scheduling and moderation of calls
Easy-to-use graphical user interface
Seamless integration with Allworx systems and phones
Quick and easy installation
Ability to create reoccurring conference calls
One time license fee for an unlimited amount of users.
Conference Center capability by system
48x: 4– Conference bridges up to 30 parties per bridge–
60 maximum simultaneous parties across all 4 conference bridges.
6x: 1- Conference bridges up to 8 parties total.
6x/12: 1- Conference bridges up to 8 parties total.
Call 888-729-2922 for a free, no-obligation estimate.
"Allworx phone systems have everything — every option, every feature — that you're going to want, and it'll be tough to find another one that's even close in terms of pricing."
"Allworx has really helped us to stay in business as we continue to grow with one unified phone system,"
60 Day
Make-It-Right

Guarantee

We will stay, troubleshoot and finish the job– no excuses. 5 Year Manufacturers Warranty All phones & servers are warrantied by Allworx for 5 years. 5 Year Software Maintenance Get every software and feature update for 5 years. 60 Day Onsite Support We will stay, troubleshoot and finish the job– no excuses. 90 Day Remote Support All moves, adds & changes that are remote supported are included for 90 days. 24/7/365 Monitoring & Support (Optional) All phones & servers are monitored and supported 24/7/365 through our optional Monitoring & Support Plan. Includes all moves, adds & changes.